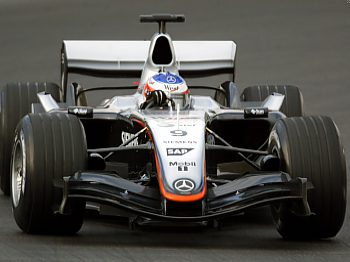 I haven't had much to say lately (count your blessings), but as anyone who even remotely knows me knows, I am a absolutely nuts about Formula 1 racing. Every other Sunday from March to October you'll find me in front of the big screen, sitting, pacing, gnawing at my fingernails, as I watch the WORLD'S BEST automobile racers drive the WORLD'S BEST automobiles around the WORLD'S BEST racing circuits. It is a world sport that most Americans pay no attention to, preferring instead to watch normally-aspirated Ford Taurus' chase Chevy Monte Carlo's around and around and around some oval for 3 or 4 hours. Please shoot me first.
Anyway, at 7:00 a.m. yesterday I was ready to go, coffee and bunny slippers and the greatest race of them all about to begin, the Grand Prix of Monaco (That's where "Monte Carlo" is, NASCAR fans). Kimi Raikkonen, the young Finn whose unshakable nerve (and seeming inability to crack a smile) has earned him the monicker "Iceman" led
pole to pole
in a mad dash through the winding streets of the town. Good stuff, this, as I am a fan of the Mercedes-McLaren team for which he drives.
What prompts this post, however, is
this news item
about how this world reknown race driver got ticketed in his home country for, get this, driving a car and trailer without a proper license.
I kid you not. Not only that, but check out the fine! 30, 000 Euros, which in real money is $37,659.00. That is because Finland charges fines based upon your income.
At first I thought "Goddamn Socialists!" But the more I think about it, I wonder. I mean, if a $10,000 fine for flipping the bird to a fan doesn't faze a professional sports idiot, is a $150 dollar fine for speeding in a school zone going to slow the moron down?* What if instead the court took 10% of the offender's monthly income, minimum $150? Losing 10% of your income would get most people's attention, and discourage behavior that society has determined is potentially dangerous.
What do you think?
* A young school girl was struck and killed by a speeding hit and run driver the other day after getting off her school bus. They caught the driver. She is 19 years old and her life is already over.
Slow the hell down people.