In a City that never closes, a store that
never sleeps
(very cool link).
Him:
Honey?
Honey??
[nudge, nudge] Are you sleeping?
Her:
Arrggghhh. I was until you woke me. [Yawn] What time is it?
Him:
I don't know. It's 5 o'clock
somewhere
.... I can't sleep.
Her:
[looking at clock] You woke me up at 3 AM to tell me that
you
can't sleep? You're going to be the
death
of one of us.... Why don't you try reading another page of that beach book spd was
oohing and ahhing
about a couple weeks back,
Team of [Sleepless] Rivals
. That'll have you snoring in no time flat.
Him:
I can't. spd is right. The book's too
heavy
to hold up in bed. I'm afraid it'll give me carpal tunnel syndrome. I'm thinking that....

Her:

*Sigh* Not again.


Him:

"Not again" what?


Her:

"Not again" you know what. Geez, honey, you're killing me here. This is the third time this week!


Him:

But I can't sleep. Please? Please baby? I'll be quick. You won't even notice.


Her:

Whatever....But next time [yawn], don't wake me up...just do what you have to do, and tell me all about it in the morning.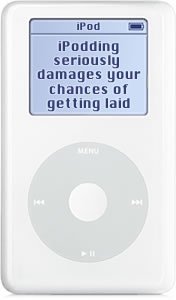 Him:

Promise.
Her

: Good.
Him

: You're the best.
Her

: Yeah, yeah [yawn] I know. That's what you told me last night and the night before that and ....
zzzzzzzzz.
Him

: How 'bout I pick up a couple of bagels on my way home from Fifth Avenue. Butter or a schmear?


Her:

Both [yawn].
Him:

Will do. Sweet Apple

(TM)

dreams....


Her:

Groan. Ya know what [yawn] my precious Nano

(TM)

?




Him:

What?


Her:

I finally figured out what the "i" in iPod stands for: Impossible. Just like you. Say hello to your buddy
Steve
for...zzzzzzzz

I have no idea how many iPods Steve Jobs had to sell to open this

24x7x365

temple of consumerism nor how many more iTunes songs I have to download in order for the

300

full-time staff to keep their Jobs

(TM

). Frankly, I don't care.

All I know is that right now the sexy, little black
item
I picked out the other day at the Apple Store is giving all those other sexy, little black items I own a run for their money.

Don't ask me to choose. Not yet, and not while I'm in shuffle mode.

(posted by "iPod, therefore I am" Portia.)