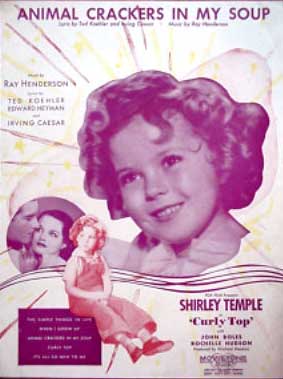 MacArthur's Park is melting in the dark
All the sweet, green icing flowing down
Someone left the cake out in the rain....

Wish I was a Kellogg's Cornflake
Floatin' in my bowl takin' movies,

I need a little sugar in my bowl,
I need a little hot dog, on my roll

Cheeseburgers in paradise.
Heaven on earth with an onion slice

I don't want french fried potatoes
Red ripe tomatoes
I'm never satisfied
I want the frim fram sauce .....

Peel me a grape, crush me some ice
Skin me a peach, save the fuzz for my pillow

Ever think about how many songs mention food? Tons and tons. But here's something you probably never realized, nor even spent much time thinking about: Not one of the gazillion songs about food mentions cilantro. Nada, niente, nyet, zip, zero, zilch. Not even Simon & Garfunkle's wistful ode to my spice shelf dared mention it.
Are you going to Scarborough Fair
Parsley, sage, rosemary and thyme
Remember me to one who lives there
She once was a true love of mine.
And that's just fine with me. Why? Because I. Hate.
Cilantro
. Not just a little. A lot. A lot, a lot.
How much? Enough to push away my dinner plate at the slightest sting of it on my salivating tongue. Enough to order Green Eggs and Ham rather then a parfait glass of untested cerviche. Enough to make me...well you get the picture. Some people turn their noses up at at the mention of sweetbreads, or
Rocky Mountain Oysters
and that's more than understandable given their original purpose before they landed on your plate. Not me. I've dined on brains and balls in my culinary travels and I'd gladly take both served over easy (with extra hot sauce for the "oysters") than have have one spoonful of a dish laced with cilantro touch my ruby lips.
I know you're thinking:
Whassup with that
? I realize that for most people, cilantro is a seemingly harmless, little green plant mentioned as a footnote in old Mexican and Chinese recipes. Replace it with parsley and no one will be the wiser, not even your great aunt from Guadalajara. People will tell you it's not like garlic that will seep through your skin 24 hours after eating it and noxiously inflitrate another's personal space like a bad dime-store cologne. It won't set your mouth on fire like a serrano pepper. Nor will it kill you like Fugu, Japan's lethal and oh so expensive (in more ways than one) delicacy.
So for years, and while cilantro remained below the radar screen of haute cuisine, I kept quiet about my loathing thinking it was some weird tastebud gene thingy or some repressed childhood trauma with a cilantro bush.
I lived happily in my cilantro-free castle while my significant other, who is the best cook a girl could lasso, avoided the odious cuttings, preferring instead to sprinkle everything--including grapefruit--with healthy amounts of basil leaves from his native Italy, topped with Italian parsley for some extra color. Every once and a while when I came face-to-face with the hideous herb, I surreptiously would pick out the toxic leaves that garnished my gazapcho more for decoration than flavor, and carry on. Close friends in whom I confided knowingly avoided cooking with the dreaded cuttings when inviting me for dinner lest they hear another of my rants; even our dogs knew enough to steer clear when some unsuspecting acquaintance dared to mention the "C" word.
But something happened in the past 5 years or so. Cilantro has become the darling of trendy restaurants. It has become the "it" spice of the aughts. I'd happily blame it on the ginormous number of Mexican illegals piercing our borders but I've been to Mexico enough times to appreciate that even Mexicans don't pledge allegiance to cilantro. No, this was clearly a conspiracy by American chefs to make everything from pizza to sushi taste like doll hair, and it's enough to make this die-hard foodie cry. Meal after meal, I kept wondering:
How did I veer so off course? How did I find myself sitting on the sidelines in the great banquet of life?
And the most gnawing introspection of all:
Was I the only one out of step
?
So you can imagine my surprise and delight when a friend sent me this
link
about a grassroots organization whose sole mission is to ban cilantro and save the world from this scourge.
Who knew? Pickets, rallys, testimonials, even a pie chart of what people think it tastes like,
e.g.
, soap, doll hair, dandelions, or my favorite, burnt rubber. Holy Bat Herb. Never mind, wiretapping, or rendidtion.
Stop the proliferation of cilantro now, Hillary.
Hallelujah! This is a cause I can get behind. This is right up there with learning that somebody gave Bush a blowjob in the Oval Office. So I say, let's get this party started.
Yes, I accept the fact that this may still be a weird Portia gene thingy or one of her leftover repressed boogeymen, but at least now I know I'm not alone. Now I can stand tall with my dsyfunction. Now I can look my waitperson in the eye and say
I don't do cilantro.
Suddenly, the world seems a leaf or two less hostile.
My name is Portia, and I'm a cilantro hater.
*****
This has been a Public Service Announcement courtesy of a Heigh Ho guest blogger, and does not reflect the opinion of management. The map provided here is for illustrative purposes only, and is not intended to draw any nexus between the growth of cilanto and Bush's failing popularity. If you believe your rights have been violated, please contact your local IHC representative for further information. Help and support is only a phone call away. You need not suffer alone anymore.
Whether or not you are a cilantro hater, please make sure you cast your vote in the post below, and let management know that that you want Heigh Ho to keep its doors open so it can continue to bring you important messages like this.
(Posted by Portia, cilantro-hater and proud of it.)